The world's richest public collection on Picasso
The Musée Picasso-Paris collection comprises over 5,000 works and tens of thousands of archived pieces. For its quality and scope as well as the range of art forms it encompasses, this collection is the only one in the world to present both Picasso's complete painted, sculpted, engraved and illustrated œuvre and a precise record—through sketches, studies, drafts, notebooks, etchings in various stages, photographs, illustrated books, films and documents—of the artist's creative process
368
sculptures and 3D works
Around
1719 drawings and notebooks
92
illustrated books by Picasso
+
2370 engravings, posters
+
200 000 pieces of archives
50
pieces of Diego Giacometti furnshings
More 6760
books from Picasso's personal library
Building the collection
The Musée Picasso Paris collection was created from two donations made to the State through Acceptance in Lieu, by Pablo Picasso's heirs in 1979 and later Jacqueline Picasso's heirs in 1990. It has been expanded over the years through further outstanding acquisitions. Picasso's personal collection was given to the State by his heirs, in accordance with the artist's wishes. Initially, it comprised some 50 works by old and contemporary masters that entered the collection thanks to a donation made in 1973. A second donation by his heirs in 1978 extended this collection to some 150 works. Picasso's personal archives were donated by his heirs in 1978 to be pre-classified before entering the national collections through Acceptance in Lieu in 1992 (200,000 pieces).
From 1980, in view of opening the Musée Picasso, Picasso's family and friends donated works they owned or inherited from the artist. The museum has regularly led an acquisition-by-purchase policy since 1985, helping to add over a thousand more artworks to the national collections. This outstanding collection has conferred on the Musée Picasso Paris a critical role internationally in presenting Picasso's work and furthering research into his life and work and modern art in general.
Image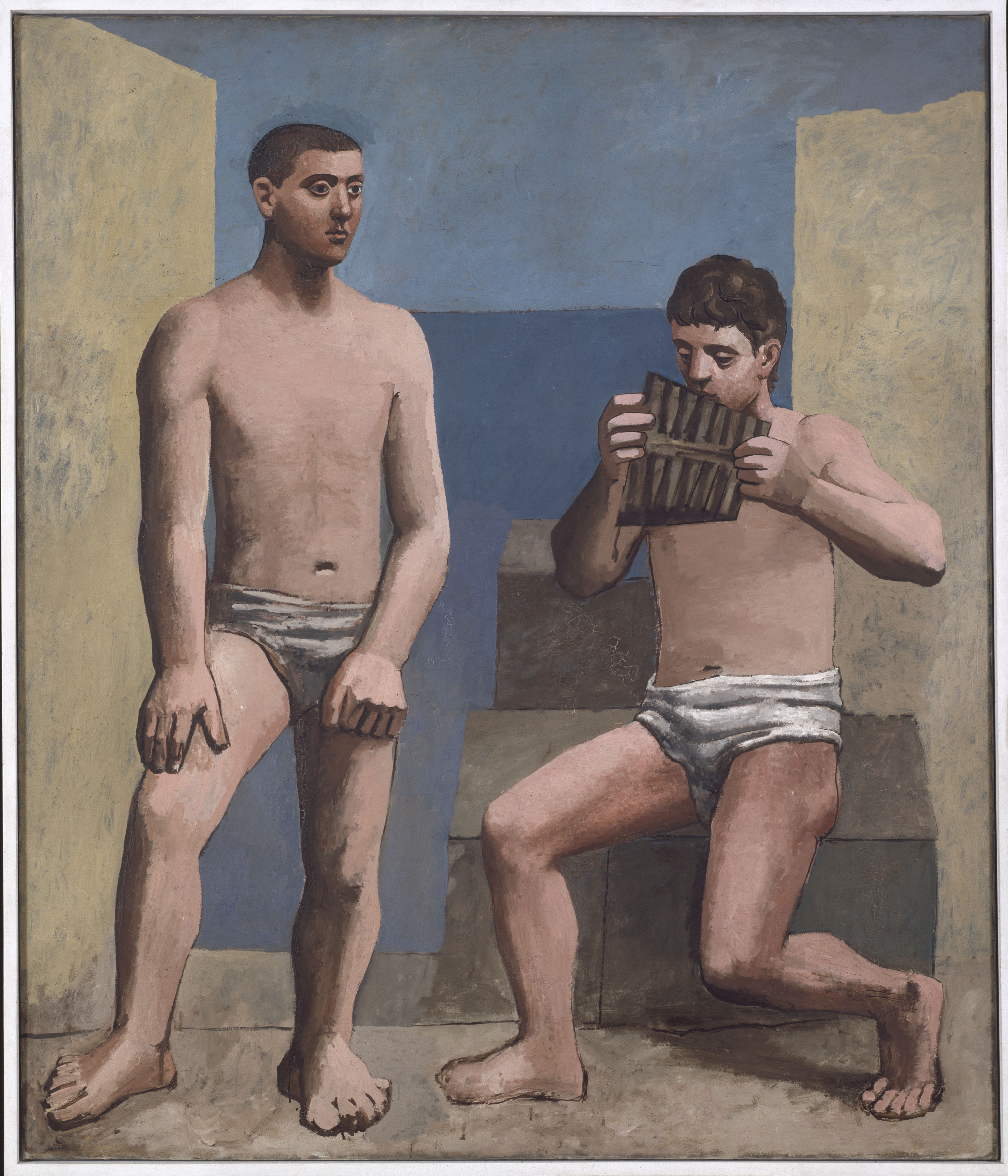 Copyright
RMN-Grand Palais (Musée national Picasso-Paris) / Adrien Didierjean, © Succession Picasso 2020
The unique circumstances leading to the constitution of Musée Picasso Paris' collection make it particularly exceptional. We owe the inclusion of such an extensive group of works into the national collections to the then Minister for Cultural Affairs André Malraux, who started a far-reaching patrimonial initiative following the celebration of Picasso's 85th birthday at the Grand palais, the Petit Palais and the Bibliothèque nationale. With this momentum and in anticipation of Pablo Picasso's inheritance, the government changed the law in 1968 to allow heirs to donate artworks in lieu of inheritance taxes and in so doing « promote the preservation of the country's national artistic heritage. » Thus the artworks donated to the State by Picasso's heirs in 1979 represented the first opportunity to enrich the national collection through this new mechanism and create from nothing an important monographic museum dedicated to the life and work of Picasso. The right of first refusal generously granted to the State by the artist's heirs has also ensured the national collection truly represents "Picasso's Picasso" and contains works that the artist owned in his private collection throughout his lifetime.
Picasso's private collection
Picasso's private collection (which was permitted under the proviso that these works were prohibited from being loaned to exhibitions anywhere in the world, including France) was donated to the State in 1973 with a second lot arriving in 1978. The national collections were expanded by some hundred works, which included Iberian statues, African and Oceanic masks, paintings by Le Nain, Corot, Vuillard, Cézanne, Gauguin, Matisse, Le Douanier Rousseau, Renoir, Braque, Modigliani and Miro, and drawings by Degas, Chirico and Giacometti. In 1990, this already superb collection was gloriously enriched with more works, notably masterpieces from his final period, sculptures, drawings and notebooks, donated through acceptance in lieu by Jacqueline Picasso's heirs. In 1992, Picasso's heirs also donated to the State his personal archives, subsequently awarded to the museum for their preservation and promotion.
Image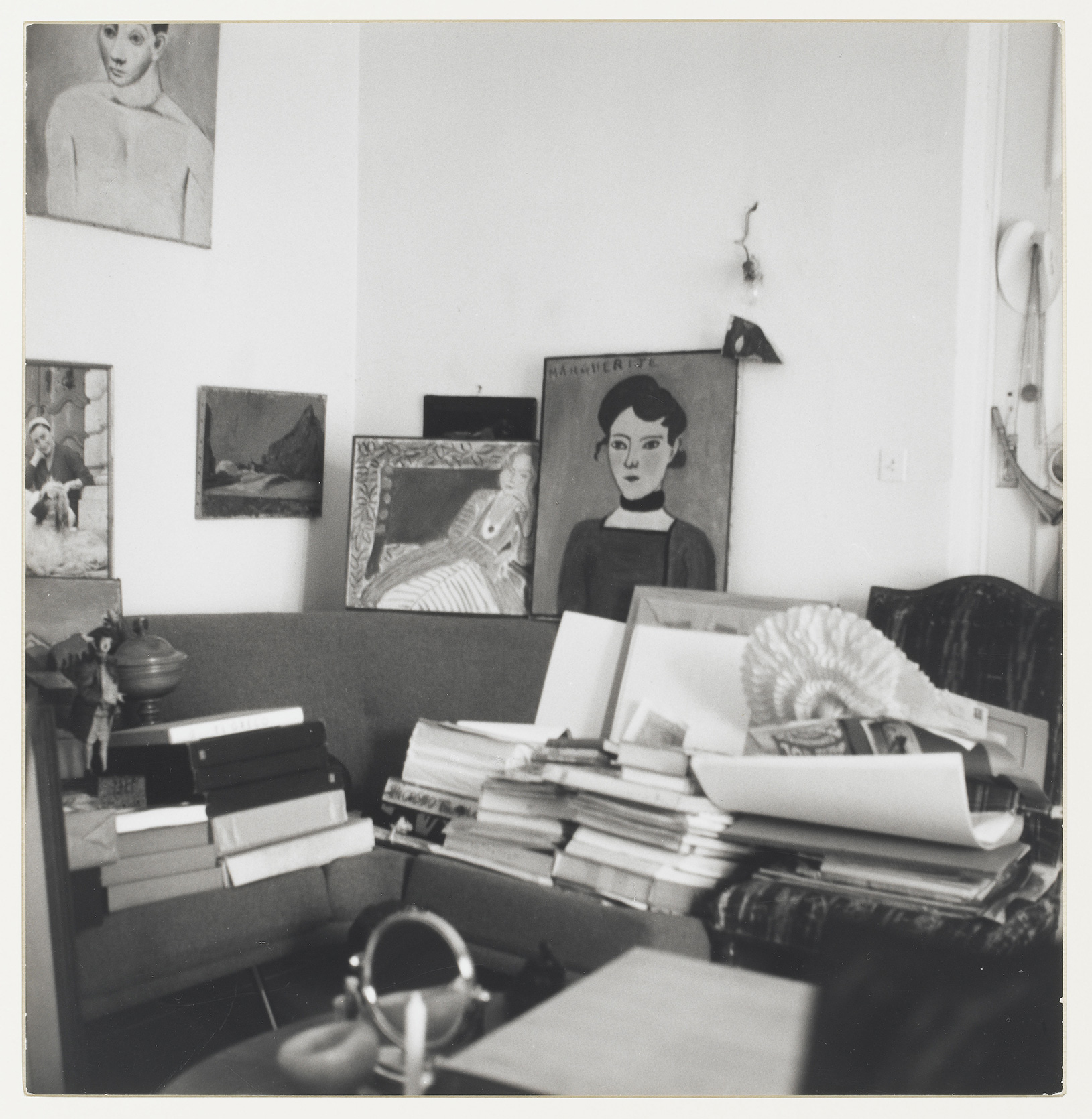 Copyright
RMN-Grand Palais (Musée national Picasso-Paris) / Mathieu Rabeau, © André Gomès, © Succession Picasso 2020
Image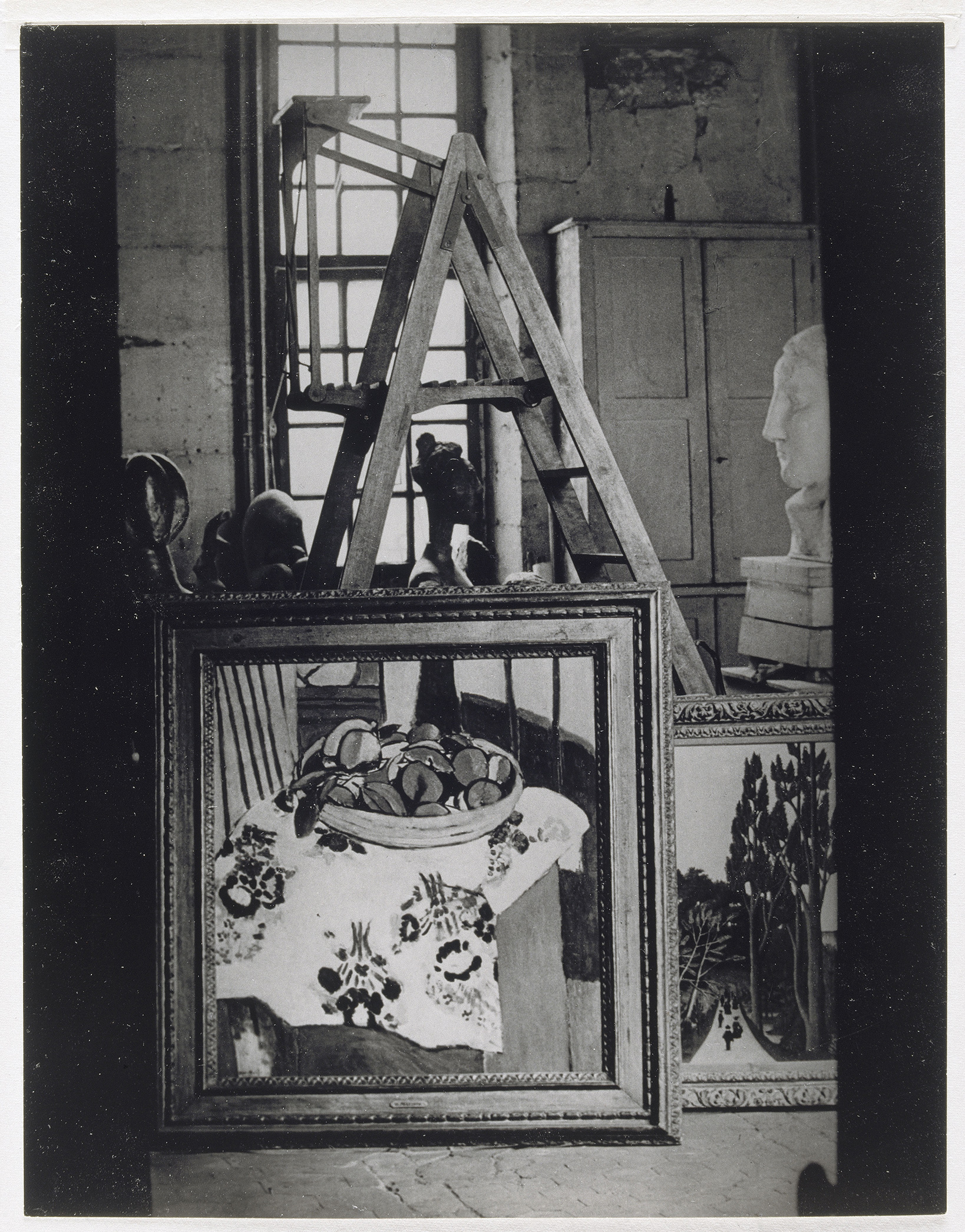 Copyright
RMN-Grand Palais (Musée national Picasso-Paris) / Franck Raux, © Estate Brassaï - RMN-Grand Palais, © Succession Matisse
Paintings
The rich history of the artist's painted works is retraced through nearly 300 paintings held in the Musée Picasso Paris collection today. From his Self-portrait and La Celestina produced during his Blue period to the Kiss, Large Nudes, Matadors and Musicians in his final years, the key periods of Picasso's artistic career are represented. The paintings of the collection thus include: large preparatory paintings for the Young Ladies in Avignon; Still Life with Chair Caning in 1912 (first modern art collage); large Cubist paintings Man with Guitar and Man with Mandolin, 1911-1913); an exceptional series of assemblages, decoupages and constructions from his Cubist period (1912-1916); classical "grandes machines" of the Women at a Fountain or The Pipes of Pan, ; an extraordinary sequence of Surrealist paintings from 1924-1930; "war paintings" depicting the Spanish Civil War; Memento mori from the Occupation; and diverse paintings and sculptures from the 1950s pop art period to the works he produced in the last decade of his life influenced by the old masters.
Sculptures
When it opened in 1985, the Musée Picasso presented a superb selection of sculptures, ceramics and other objects that had been harboured in Picasso's various studios for many years. Around 250 three-dimensional works make up the most comprehensive collection of the artist's objects, including many rare pieces such as his relief paintings and Cubist constructions. The collection unites nearly all of the artist's sculpted work to celebrate his pictorial accomplishments: proto-Cubist wood and bronze sculptures (1906- 1909); Cubist constructions (1913-1916); wire-framed models (Plans for the Monument to Apollinaire (1928), the series of large plaster Busts of Boisgeloup (1930); the iconic figures of the Woman in the Garden (1930), the Bull's Head (1939-1943), the Man with Sheep (1943)); the montages and 'marcottages', Girl Skipping (1950), The Nannygoat (1950) or The Baboon and Young (1952) and his revolutionary steel cut-outs from the 1960s. Essential landmarks charting the history of Picasso's sculpture. This collection relates to a unique photographic collection and is housed at the museum. Well acquainted with Picasso's studios, Brassaï compiled an impressive photographic record of the artist's sculptural work. As a natural ally to the works of which she left an indelible stamp, she is an integral part of the Musée Picasso Paris' collection following the 1996 acquisition of Brassaï's works capturing Picasso's life and work.
Graphic work
In Picasso's studio, paper was employed in various ways. For illustration, of course, but it was also pasted, ripped, layered, always honoured and rarely neglected. Over 3,900 items were inventoried in his collection of iconographic souvenirs, graphic tokens, historic mementos and foundation pieces gravitating towards sculpture and painting. In 1979, Picasso's estate bequeathed a fantastic legacy showing his skillful mastery of diverse materials and techniques: pencil, charcoal, ink, pastel and watercolour on loose sheets of paper or in notebooks—a valuable collection of pieces that convey his everyday familiarity with the humble material of paper. From genre scenes of his adolescence to the final raw and allegorical sketches produced in his old age, Picasso recorded his entire life in drawing.
Engravings
He also engraved it, aware of the wonderful potential afforded by this medium, in vast and populous series, forever communicating with his alternative creative processes. Picasso's interest in ancient, modern and contemporary literature, and for the old masters, is reflected in a rich collection of publications housed at the museum. Books also appeared to be an important medium for some of the artist's visions and fantasies. Picasso, through his connections with several artisan engravers, breathed new life into this creative field as shown through hundreds of essais, proofs, printing plates, pentimenti, bon-à-tirer proofs, moulds and other creations brought together at the museum.
Archives
The archives accumulated by Picasso were given to the State—jointly to the the national archives department and the French museums department–by all of the artist's heirs in 1992 and donated to the Musée Picasso for their preservation and promotion. By taking an inventory of the contents, the museum separated the photographic collection from the documents, which included his "written" archives.
The written archives are made up of more than 100,000 documents. Collected from Picasso's various homes, the archives contain self-penned texts, personal papers, accounts, books, exhibition catalogues as well as correspondence, author manuscripts, publication proofs, tracts, invitation cards, press clippings and more: the palimpsest of a full life by this artist known for "keeping everything".
Image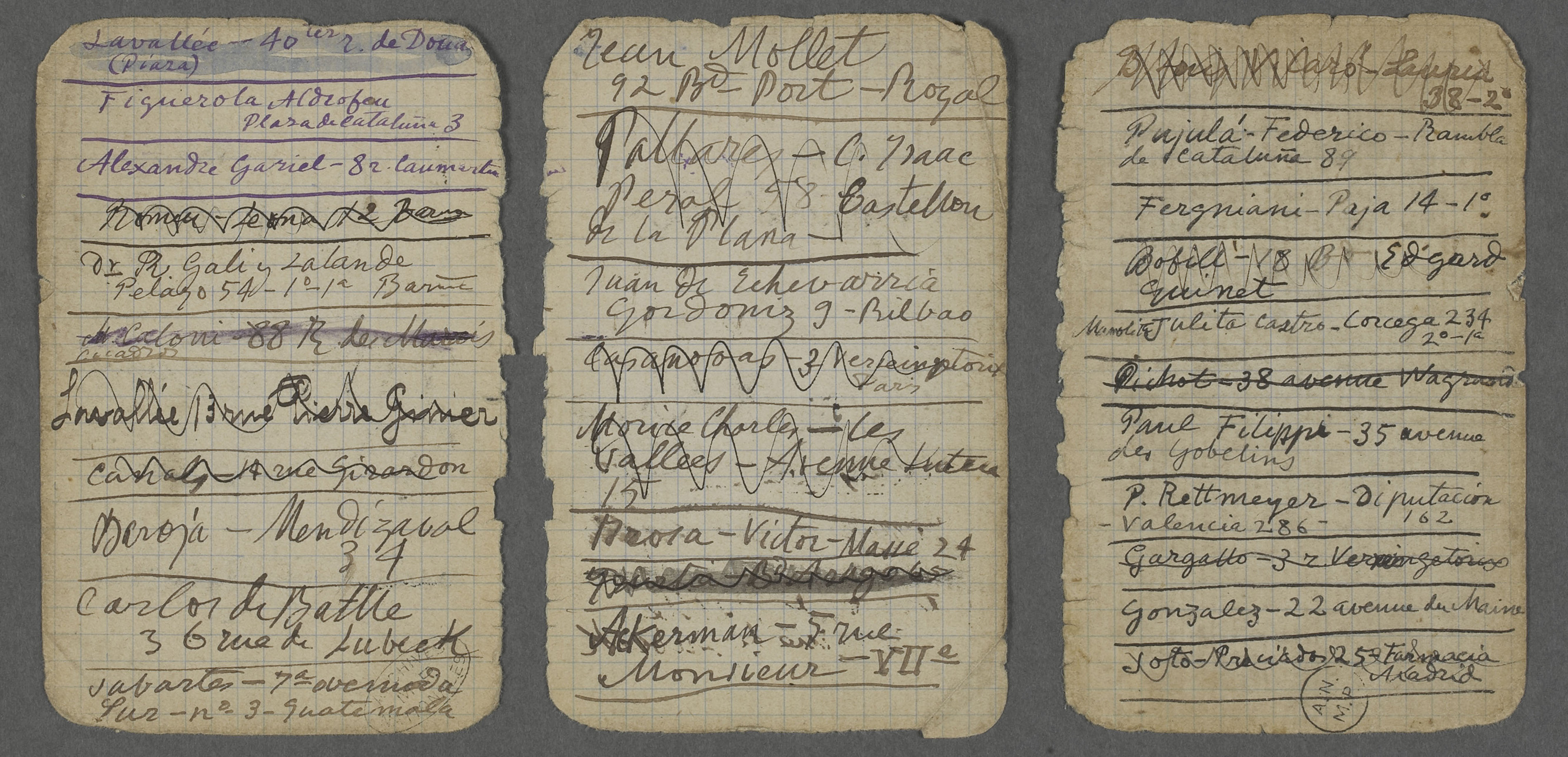 Copyright
RMN-Grand Palais (Musée national Picasso-Paris) / Thierry Le Mage, © Succession Picasso 2020
Image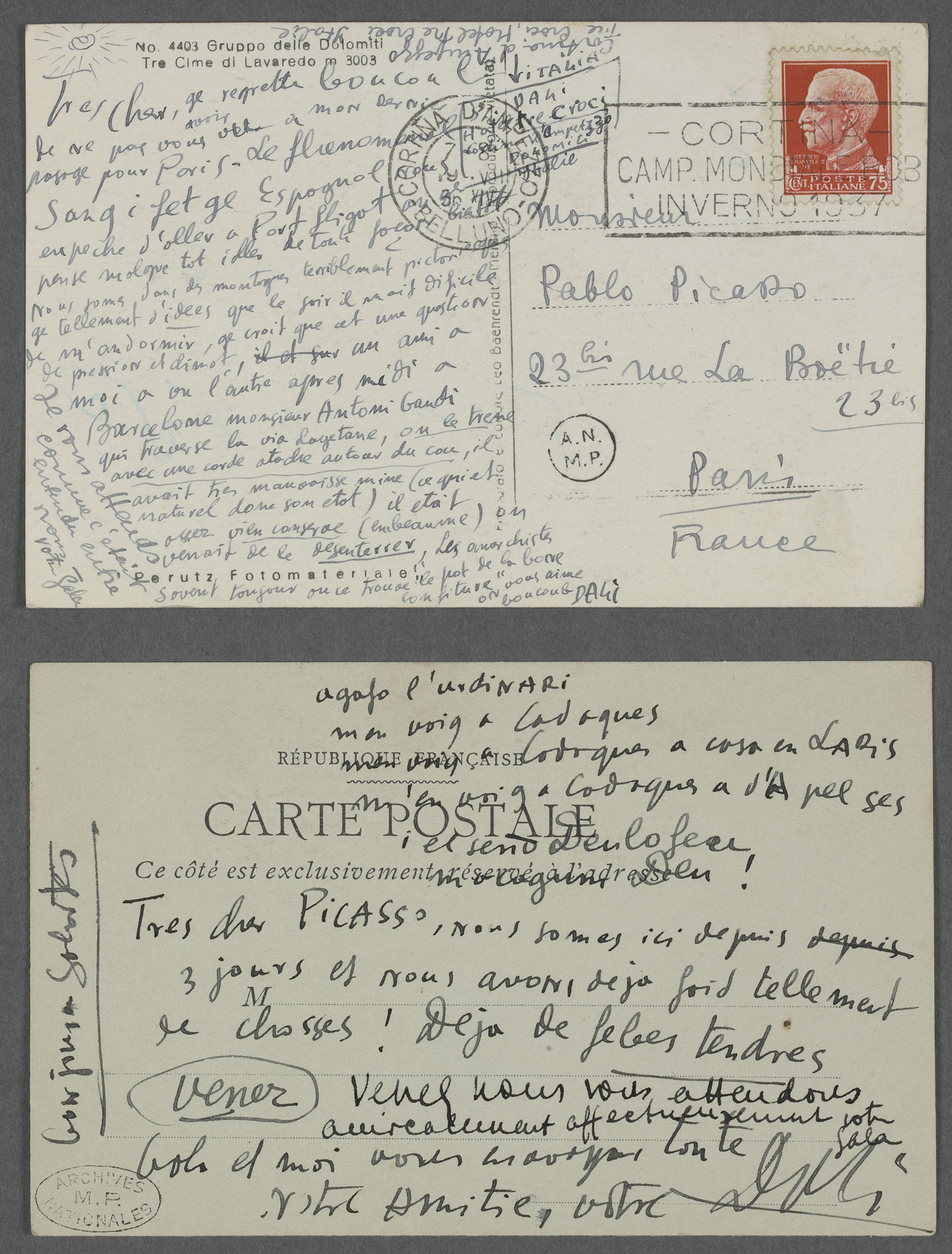 Copyright
ADAGP, © Succession Picasso 2020
Photography
The photographic archives comprise over 17,000 documents and bear witness to Picasso's often experimental interest for the medium of photography. It holds photographs taken by Picasso himself as well as those taken by prominent photographers in the 20th century (Cecil Beaton, Brassaï, Robert Capa, Henri Cartier-Bresson, Lucien Clergue, Robert Doisneau, Douglas David Duncan, Dora Maar, Man Ray, Gjon Mili, Edward Quinn, André Villers and others). This collection is a testament to the artist's close collaboration with the leading photographs of his time.
Image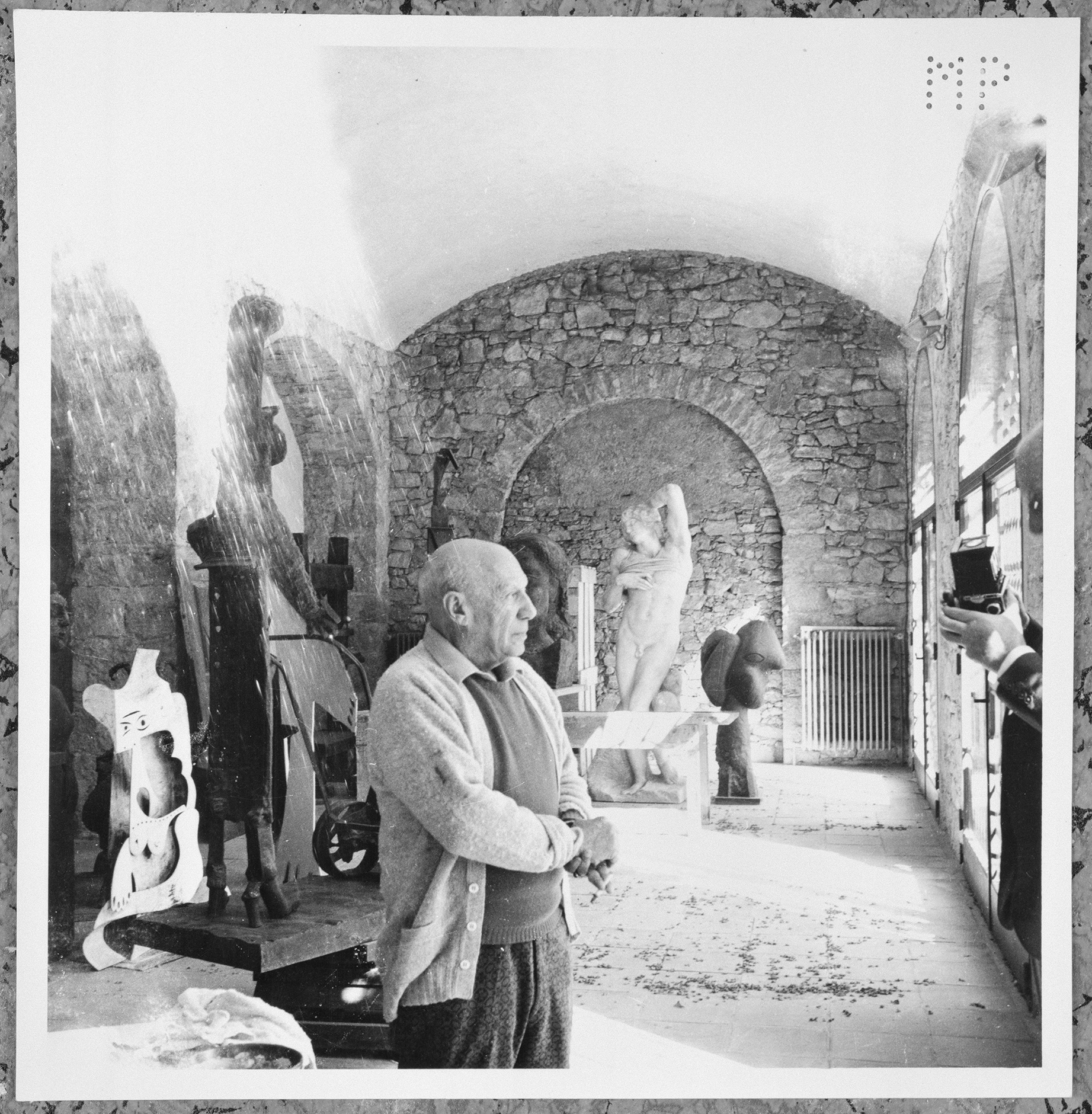 Copyright
RMN-Grand Palais (Musée national Picasso-Paris) / Michèle Bellot, © André Gomès, © Succession Picasso 2020
Image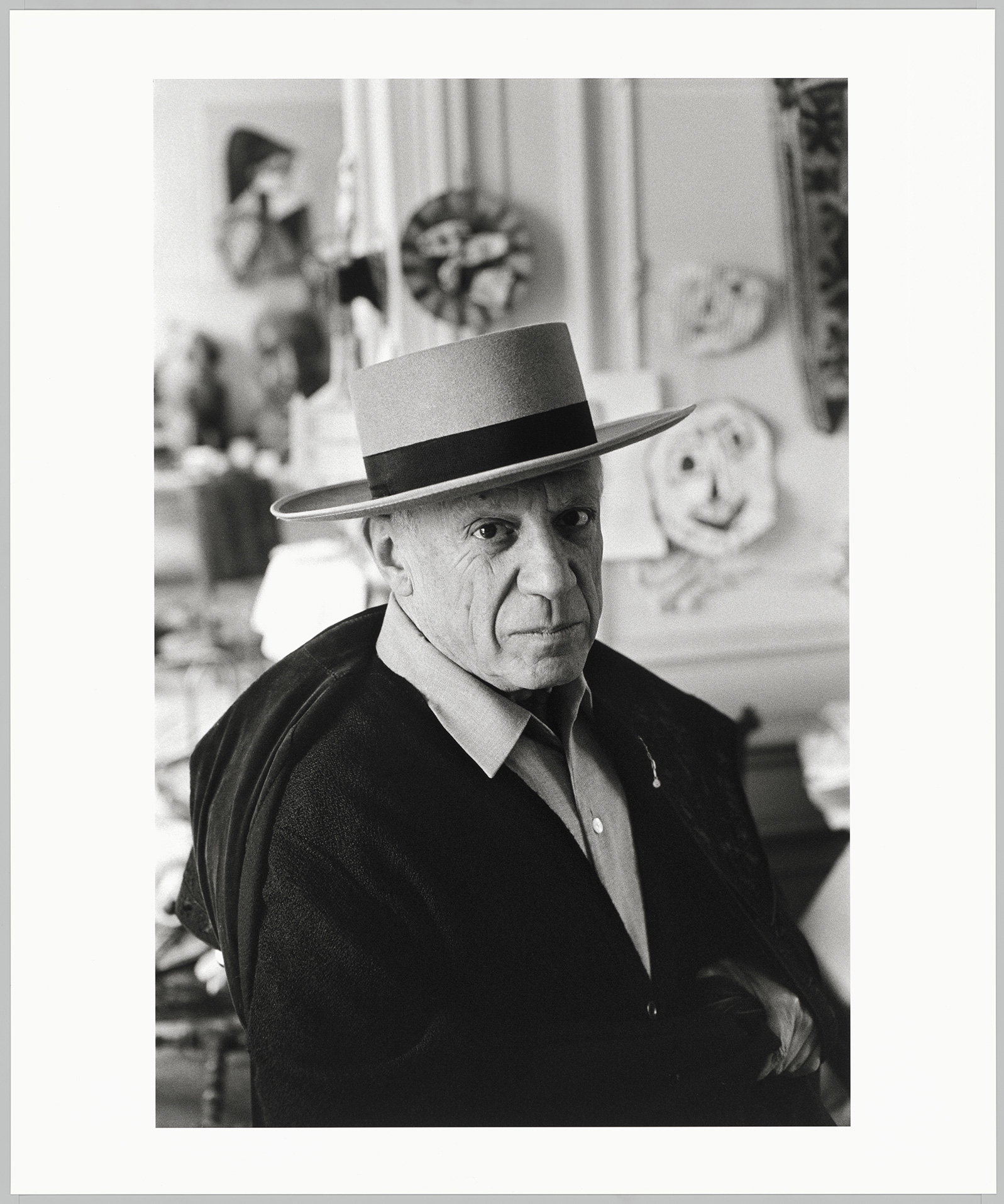 Copyright
RMN-Grand Palais (Musée national Picasso-Paris) / image RMN-GP, © David Douglas Duncan, © Succession Picasso 2020
Libraty and documentation
The library has some 11,000 publications in its collection. All of them have been purchased or obtained through donations or exchange over the past 30 years. The collection also holds some one hundred books illustrated by Pablo Picasso. The museum continues to write papers and articles on the works in the collection and other subjects related to the artist. To complete the collection, the museum possesses audiovisual recordings in various formats from diverse sources.
Le mobilier Giacometti
Le Musée Picasso-Paris possède un ensemble exceptionnel de 50 pièces de mobilier créées exclusivement par Diego Giacometti pour l'aménagement de l'Hôtel Salé.
Cet ensemble unique comprenant bancs, chaises et tables en bronze, ainsi que différents modèles de luminaires en bronze et en résine, fut acquis lors de l'ouverture du Musée Picasso en 1985, grâce à une commande publique initiée par le Centre National des Arts Plastiques.
Les meubles sont fondus par la fonderie Susse et la fonderie Jacques Redoutey, et livrés quelques semaines après la mort de Diego. Les luminaires sont réalisés par l'atelier Haligon, avec une grande fidélité aux plâtres de l'artiste. Ces œuvres témoignent de la délicatesse de l'univers de Diego Giacometti, où se lit la pureté de la ligne grecque dans le dessin des tables, bancs et chaises ou la présence touchante de la nature, au travers des tulipes et feuillages entourant les bulbes des luminaires, ou de deux petites chouettes posées sur le branchage métallique d'une lanterne de bronze.
Image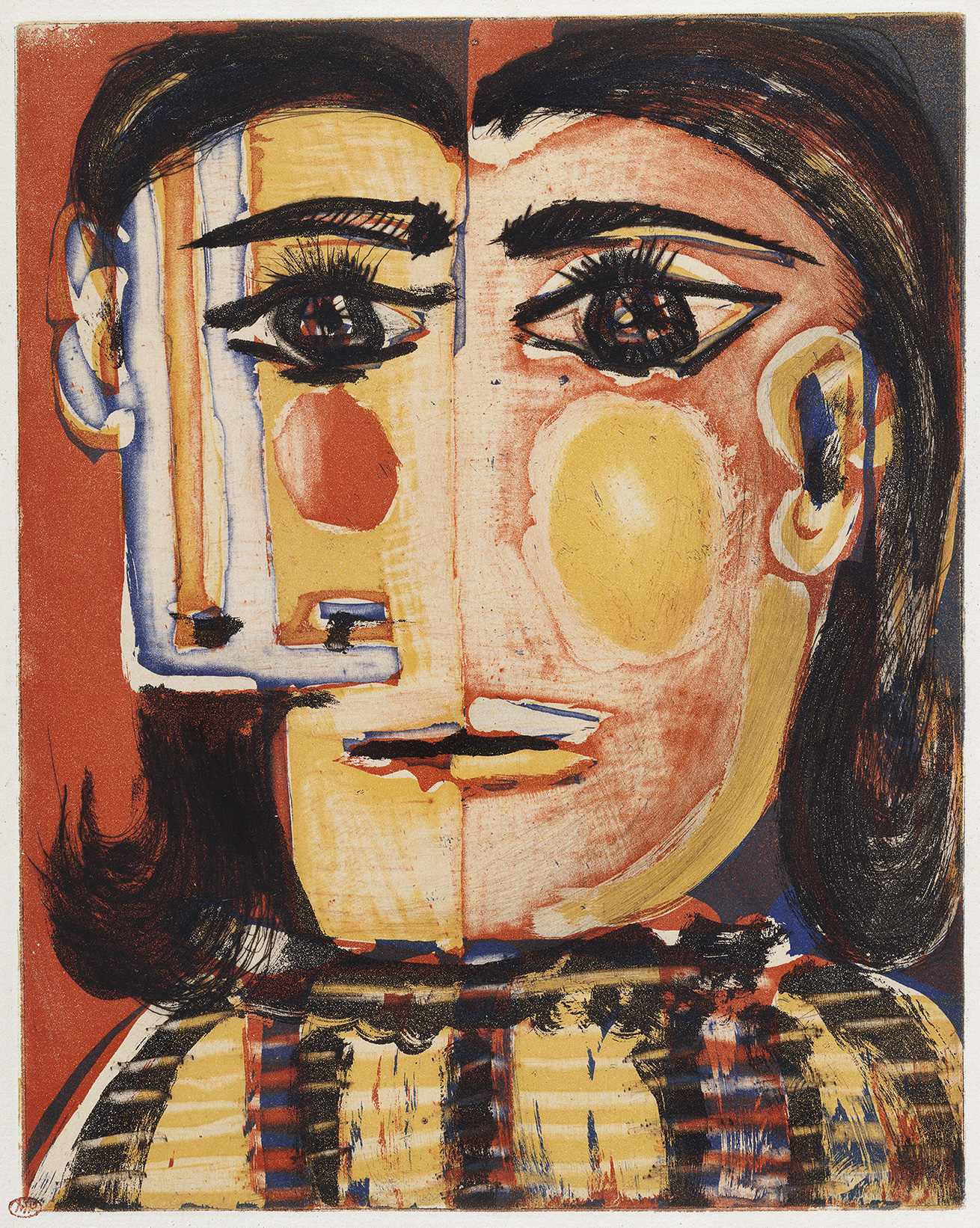 Copyright
RMN-Grand Palais (Musée national Picasso-Paris) / Béatrice Hatala, © Succession Picasso 2020